Tribal Council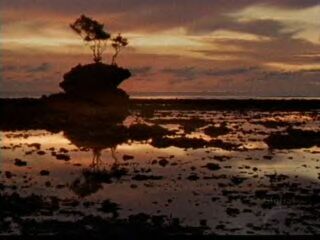 When the sun sets over the island every third day, a tribe must venture deep into the jungle to Tribal Council, where they must vote one of their own off the island.
This page chronicles the 39-day story of the castaways and short summaries of each episode are included.
EPISODE 1: THE ADVENTURE BEGINS
AIRDATE: May 31, 2000
16 ordinary Americans begin a 39-day adventure on the remote island of Pulau Tiga in Borneo.
Reward/Immunity: Pagong
Voted Off: Sonja (Tagi)
EPISODE 2: GRUBFEST
AIRDATE: June 7, 2000
Sparks fly at Pagong as the younger tribe members are accused of being lazy, the tribes are treated to a butok feast for an immunity challenge.
Immunity: Tagi
Voted Off: BB (Pagong)
EPISODE 3: MONSOON
AIRDATE: June 14, 2000
The real reward challenges begin on Day 4 and a fierce monsoon storm hits the island during Tribal Council.
Reward: Tagi
Immunity: Pagong
Voted Off: Stacey (Tagi)
EPISODE 4: TOO LITTLE, TOO LATE
AIRDATE: June 21, 2000
Tagi is groggy for the prize in the next reward challenge while Jenna talks about Ramona's last-ditch efforts to help out her tribemates after a bout of sickness.
Reward: Tagi
Immunity: Tagi
Voted Off: Ramona (Pagong)
EPISODE 5: MORE THAN FRIENDS?
AIRDATE: June 28, 2000
Things heat up in the Pagong camp as Greg and Colleen spend a lot of private time together.
Reward: Pagong
Immunity: Pagong
Voted Off: Dirk (Tagi)
EPISODE 6: WOMEN 1, JOEL 0
AIRDATE: July 5, 2000
The women of Pagong band together against Joel when Gervase makes a sexist comment, the tribes face off against each other in the final intertribal immunity challenge before the merger.
Reward: Pagong
Immunity: Tagi
Voted Off: Joel (Pagong)
EPISODE 7: THE MERGER
AIRDATE: July 12, 2000
The remaining members of Tagi and Pagong merge to become Rattana...and this time, the stakes are raises as it's now everybody for themselves.
Immunity: Greg
Voted Off: Gretchen
EPISODE 8: HOMESICK RATTANA
AIRDATE: July 19, 2000
Jenna starts showing signs of homesickness when told that a video from her loved ones never came.
Reward: Greg
Immunity: Gervase
Voted Off: Greg
EPISODE 9: GIVE ME A "J"...FOR "JENNA"
AIRDATE: July 26, 2000
Richard celebrates his 39th birthday in his "birthday suit" while Sean's alphabetical voting system spells trouble at Tribal Council.
Reward: Colleen
Immunity: Rudy
Voted Off: Jenna
EPISODE 10: THE TARGET AND THE SITTING DUCK
AIRDATE: August 2, 2000
Gervase and Colleen become the next targets of the Tagi Alliance, Gervase learns that his fourth child was born halfway around the world.
Reward: Gervase
Immunity: Richard
Voted Off: Gervase
EPISODE 11: LAST OF THE PAGONG
AIRDATE: August 9, 2000
Sean reunites with his dad during a reward night on a yacht, Colleen comments that she is the last of her species.
Reward: Sean
Immunity: Kelly
Voted Off: Colleen
EPISODE 12: THE PULAU WITCH PROJECT
AIRDATE: August 16, 2000
A planned strategy by the Alliance backfires when Kelly wins her second Immunity.
Reward: Kelly
Immunity: Kelly
Voted Off: Sean
EPISODE 13: AND THEN THERE WAS ONE
AIRDATE: August 23, 2000
Part 1:On Day 37, the vote ends up in a tie between Richard and Susan and Kelly changes her vote.
Immunity: Kelly
Voted Off: Susan (Tagi)
Part 2: During the final Immunity Challenge, the final 3 make their rite of passage and Rudy makes a costly error.
Immunity: Kelly
Voted Off: Rudy
Part 3: Susan dishes out a tirade against Kelly during Tribal Council as Kelly and Richard compete to be the sole Survivor.
Runner-Up: Kelly
Final Survivor: Richard
Back